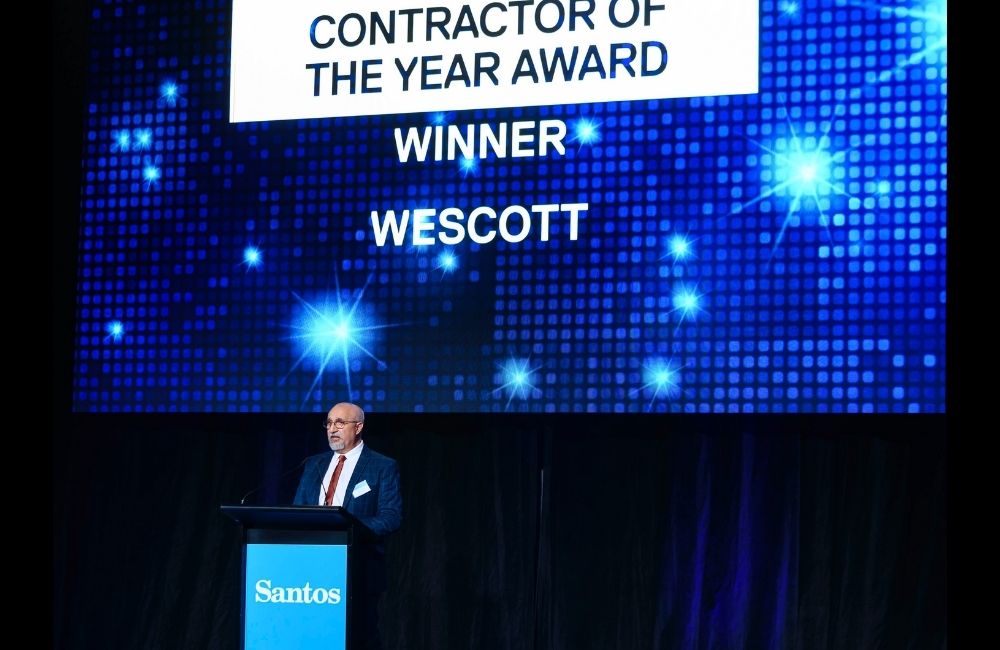 Wescott wins Contractor of the Year at Santos Annual Awards
Wescott was thrilled to receive the award of Contractor of the Year at Santos's Annual Directors' EHSS Awards evening, held at the Adelaide Oval on Tuesday 20th April.
Attended by Santos board members, CEO, South Australian Premier Steven Marshall and other dignitaries, Wescott's General Manager - Operations Charlie Lombardo accepted the award.
Charlie had personally overseen the successful execution of several projects at Santos's Port Bonython Hydrocarbon Plant, in which Wescott introduced innovation to achieve unparalleled safety and efficiency.
Santos Project Manager Vijay Menon who was central to the series of projects was also present and shared in the joy, after being personally remarked in the acceptance speech, along with other Santos and Wescott employees, for their roles.
Santos cited Wescott's work across several projects in which Wescott introduced innovative methods, obtaining unrivalled results in both safety and efficiency, the reason for their nomination and subsequently winning the award.
Charlie said, "after being nominated for the award in 2020, we are thrilled to have been nominated again this year, showing consistency in our high level execution of projects. And to win it is just fantastic."