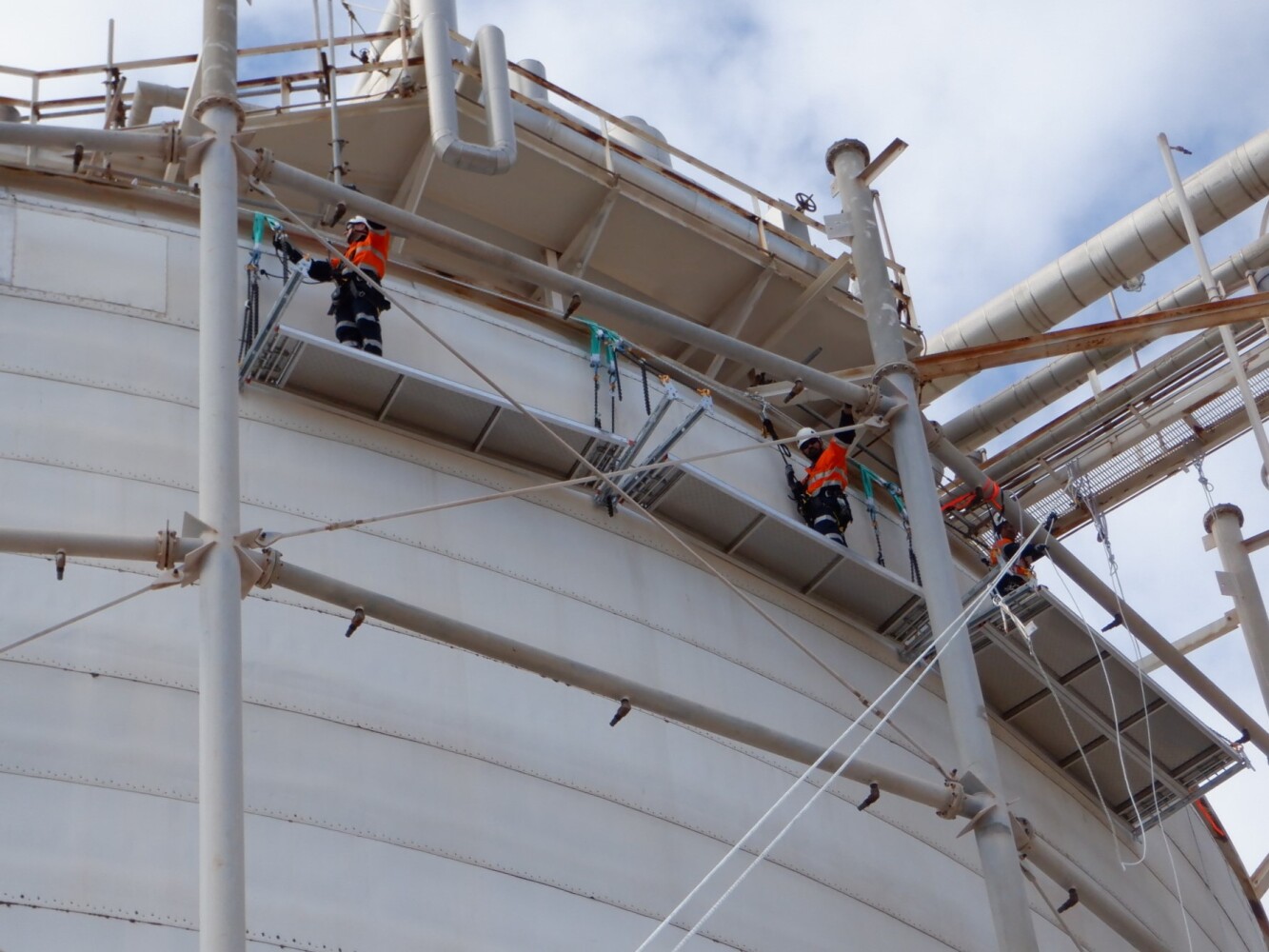 Wescott Uses Innovative Suspended Deck System to Remediate CUI on RLPG Tank
Wescott, a leading provider of industrial services, recently used an innovative suspended deck system to remediate corrosion under insulation (CUI) on a large RLPG tank. The traditional approach of building stick/modular scaffold to access the top of the tank did not align with Santos' transformation process, and the latest technology (FLIR camera infrared imaging, non-intrusive pulsed eddy current) were not suitable to quantify CUI. The only option was to innovate and find an alternative solution.
Wescott's solution was to install a suspended deck platform around the perimeter of the tank. The suspended deck is a high strength and low weight platform that can be installed by a 4-Person Rope Access Team. The system is also inspected on a weekly basis as per Temporary Works Regulations. A variety of containment systems can be installed to capture all debris generated by the works and can be adjusted as required.
The use of the suspended deck system provided significant safety and cost advantages to the client. The system is up to 80% lighter and 75% less voluminous than traditional scaffolding, which reduces the load on the structure and improves efficiency of access. The system also reduces manual handling, the wind load on the structure and system, transport logistics, and storage of product on site. Additionally, the suspended deck system improves the quality of work, extends the life of assets, reduces dropped objects risk, withstands high winds, takes heavy loads, and has a higher in-built safety.
Wescott is proud to have used an innovative solution to remediate CUI on this RLPG tank. The suspended deck system is a safe, efficient, and cost-effective solution that can be used on a variety of projects.